Volkswagen Atlas Cross Sport SUV Review in Harrisburg, PA

Are you looking to rise above the average driving experience? Tired of cookie-cutter SUVs that promise performance but always underwhelm? Volkswagen has heard these pleas and offers the Atlas Cross Sport SUV as the antidote. Crafted with performance in mind, this SUV dominates the road in a way unlike any other make and model. Look great doing it too; no corners have been cut when it comes to design or comfort. The Atlas offers excellent experiences at an unmatched comfort level. Read this review and if you want more info, browse our online store today!
Driving and Handling Experience
Every manufacturer is coming out with SUVs that will supposedly revolutionize how you drive. Few will ever deliver and Volkswagen stands above. With excellent performance as the focus, and not profits, the Atlas Cross Sport SUV is fully equipped to handle any situation thrown at it. Backed by a powerful engine that exceeds 275 horsepower, the torque strength of your vehicle will astound you. Touch the pedal and you can feel the power in every inch of your vehicle. It's not uncontrollable, however, as the handling of this SUV is astoundingly nimble. Feel the road in a way you could only ever dream up. Don't worry about adverse situations either. Fully outfitted with 4 different driving modes (Snow, On Road, Off Road, Custom Off Road), the world is fully accessible.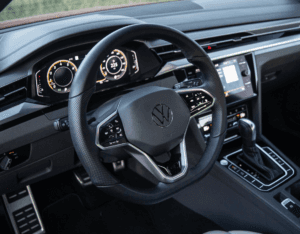 Design of The Atlas
Continuing a long tradition, the technical specs aren't the only focus of a Volkswagen vehicle. We want to look as good as the vehicles you drive. To that end, the Atlas Cross Sport SUV is simply stunning from every angle. A raked roofline complements the sharp, clean design of the exterior that immediately catches the eye. A range of potential colors gives you plenty of choice in that regard. The interior makes just as bold of a statement. First class comfort meets SUV space and storage. With plenty of room to haul goods or take friends on a journey, the Atlas Cross Sport SUV will be able to comfortably take you wherever you need to go.
Technology
A bevy of cutting edge technology is yours to utilize as well. Obviously, our commitment to safety manifests itself in our industry leading advancements in that department. For example, the Intelligent Crash Response System (ICRS) can swiftly respond to any situation where you might be compromised. Rear view cameras broaden your field of vision, making the road safer for everyone. An active blind spot monitor does much of the same. Safety is just one dimension of our commitment to tech. Builtin support for industry leading apps, like Apple Carplay, gives you unprecedented control over your ride. An HD touchscreen HUD not only looks good but intuitively guides you through every step of your journey.
Shop for Your Atlas Today!
If you're interested, next steps couldn't be easier! Browse Sutliff's online catalog to see different addons and additions to fully customize your ride for you. Experience the Atlas yourself by scheduling a test drive. That can be done over the phone or online. Either way, getting behind the wheel is a great way to see if a ride is right for you. Should you need any questions answered or addressed, don't hesitate to give us a call. We'd love to hear from you and to get you started on this journey!