2023 Volkswagen ID.4 Electric SUV Review in Harrisburg, PA

Coming soon, this new Volkswagen SUV will revolutionize your driving experience.
This review of 2023 Volkswagen ID.4 Electric SUV will cover the major highlights of this vehicle to ensure that you are fully aware of the quality vehicles Volkswagen is crafting. For more information, browse our online store or give us a call to go over your options!
Electric Driving Experience
Electric vehicles are becoming more and more common, but the SUV market is still dominated by traditional constructions. The ID.4, despite all precedent, is a fully electric model that competes and exceeds all expectations. There is no sacrifice of power or performance; with the ID.4, you can expect to dominate the competition. Experience instant torque with our world-class construction. All Wheel Drive capabilities mean you can take that power all over the world without having to worry. No matter the terrain, no matter the situation, you can expect a great driving experience that will stand the test of time. Charging stations are readily available throughout the country, 45,000 are available now and there will be more to come in subsequent years. Electrify America has extended an offer of three years of 30-minute charging sessions at their DC Fast Chargers as well. From the date of your purchase, you can utilize an ever-growing number of these stations. The 2023 Volkswagen ID.4 is a vehicle for everyone with superior performance to any other make and model.
Design Elements
Of course, Volkswagen has not created just a vehicle. Rather, they've created an experience of performance luxury and the design elements that went into the ID.4 are indicative of those decisions. With an emphasis on aerodynamic design, the clean and sharp exterior lines immediately bring precision and accuracy to the mind. That's what Volkswagen was going for with this brilliant, yet subtle, exterior design that strikes the eye with its elegance and grace. The lighting makes this perfectly clear. Top-of-the-line LED lights illuminate the road like never before and their design fits the vehicle incredibly well. Likewise the interior design sacrifices neither comforts nor luxury. Contoured leather seats perfectly hold you and the simple, sharp cockpit encapsulates everything we've come to love about Volkswagen. A panoramic fixed glass roof ties the whole interior together and gives everyone a brilliant look above.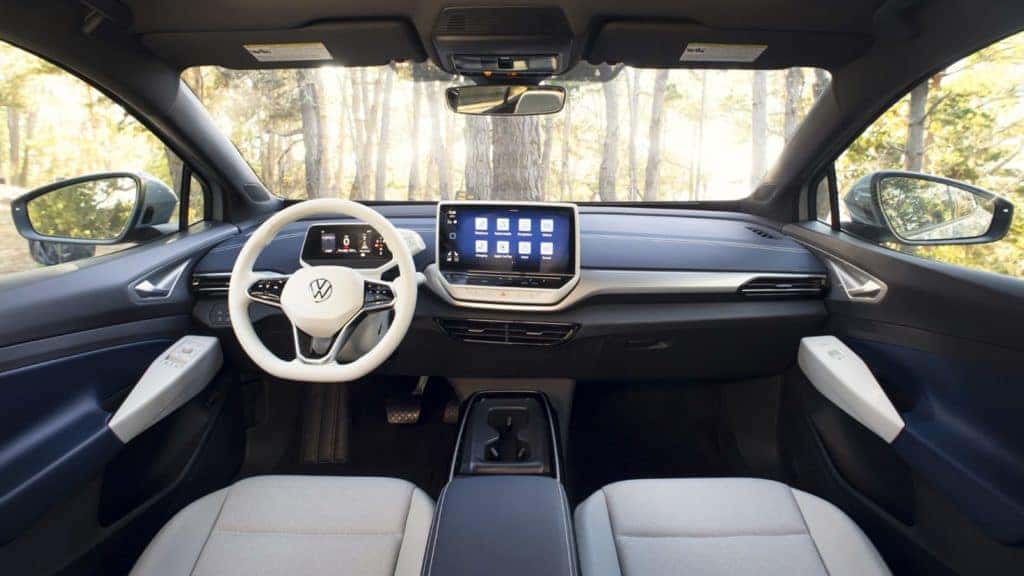 Technology
Volkswagen is no stranger to innovation and the 2023 ID.4 comes fully stocked with cutting-edge technology you will need. Primarily, the presence of the ID Light Bar continues to revolutionize how we communicate with our vehicles. From making calls, to changing music, to alerting us about brake problems, the ID Light does it all. Coupled with built-in app support for apps like Apple CarPlay and Android Auto gives you unprecedented control over every aspect of your vehicle. All of this can be done through the 12" HD touchscreen monitor that comes with adaptable navigation and automatic climate control. Get to where you're going faster and more comfortably than ever before. Audio features haven't been forgotten; top-tier sound systems give you a great audio experience and every purchase of the ID.4 comes with a three-month SiriusXM subscription.
Shop your 2023 Volkswagen ID.4 Today!
Best of all, these are just the standard features! There are plenty of upgrades and add-ons that give you the chance to customize your vehicle to create the one that is perfect for you. Browse our online store to find out what you really need with your ID.4 and reserve your model today. If you have any questions or concerns, give us a call! We'd love to hear from you and help you in any way we can.